Frequently Asked Questions
How do I sign-up for tutoring ?
How do I know tutoring will help me?
We will meet with both parents and child to assess how we can help, and where your child is struggling.
Do you offer ACT/SAT® assistance?
Yes, we do offer test prep for both the ACT and SAT®.
Do you offer any other test prep services?
We also provide test prep for a variety of other standardized tests including GRE, GMAT, LSAT, MCAT, as well as other regional and national testing depending on location.
Do you offer online tutoring ?
Yes, we do offer online tutoring. This is often a great option for busy students and or students studying remotely.
Is your tutoring one-on-one or is it with a group?
We offer one-on-one learning, and or group tutoring. To determine the best option to accommodate your individual needs we recommend you book a complimentary consultation.
What subjects do you offer tutoring in?
We offer tutoring in a variety of subjects. Our most in-demand subjects are Math, Physics, Sciences, History, and much more.
Do you offer payments plans or financing?
We do offer payment plans that last the duration of our tutoring timeframe. Contact us to learn more about the available payment plans.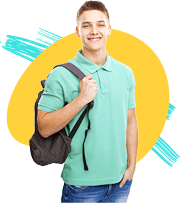 We can help you achieve your goals. Contact us today!